Astrovan II
A Fifty-Year Caravan Into Orbit Continues
Since the Apollo missions to the moon, Airstream has played an important role in America's space program. With Astrovan II, we'll be right there again as American astronauts take the next step towards the stars.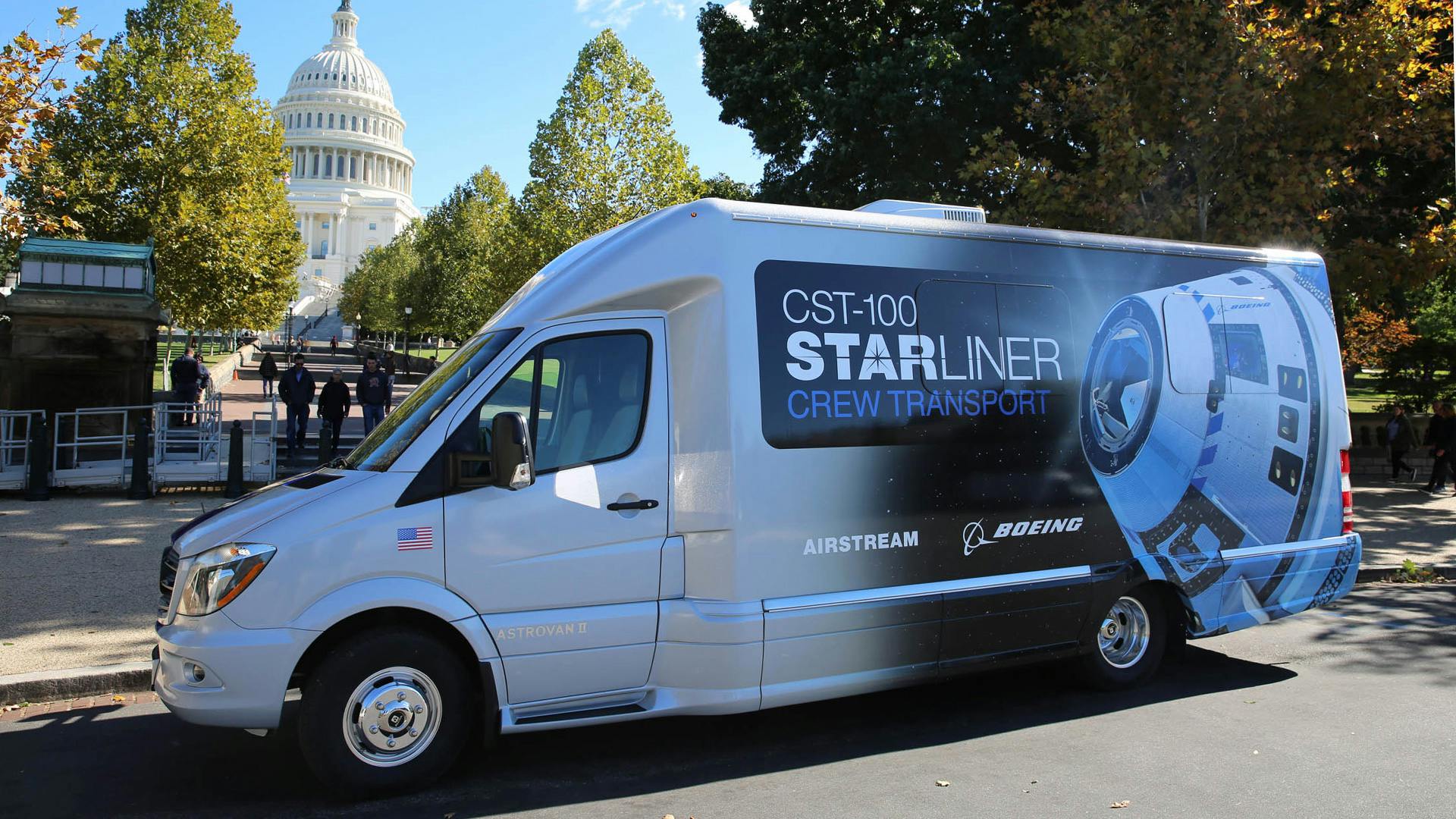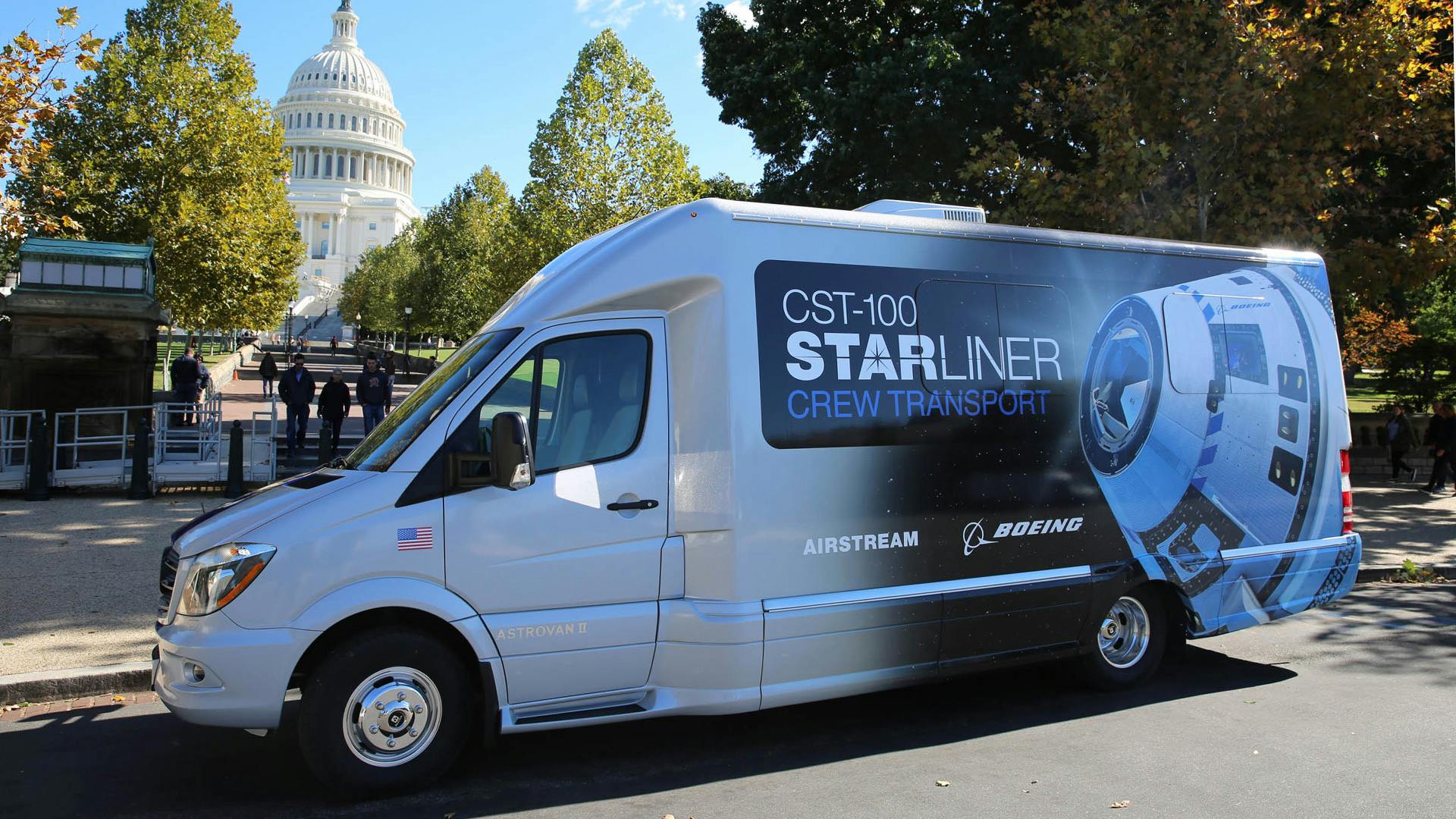 Taking the Next Step Together
Built in partnership with the Boeing Company, ASTROVAN II is the new crew transport vehicle for Boeing's CST-100 Starliner crew. As part of Boeing's Commercial Crew program, ASTROVAN II will transport Boeing astronauts from where they suit up in Cape Canaveral, Florida, out to the launchpad. At the conclusion of their 9-mile journey in Astrovan II, the Boeing crew will board the Starliner spacecraft before launching to the International Space Station.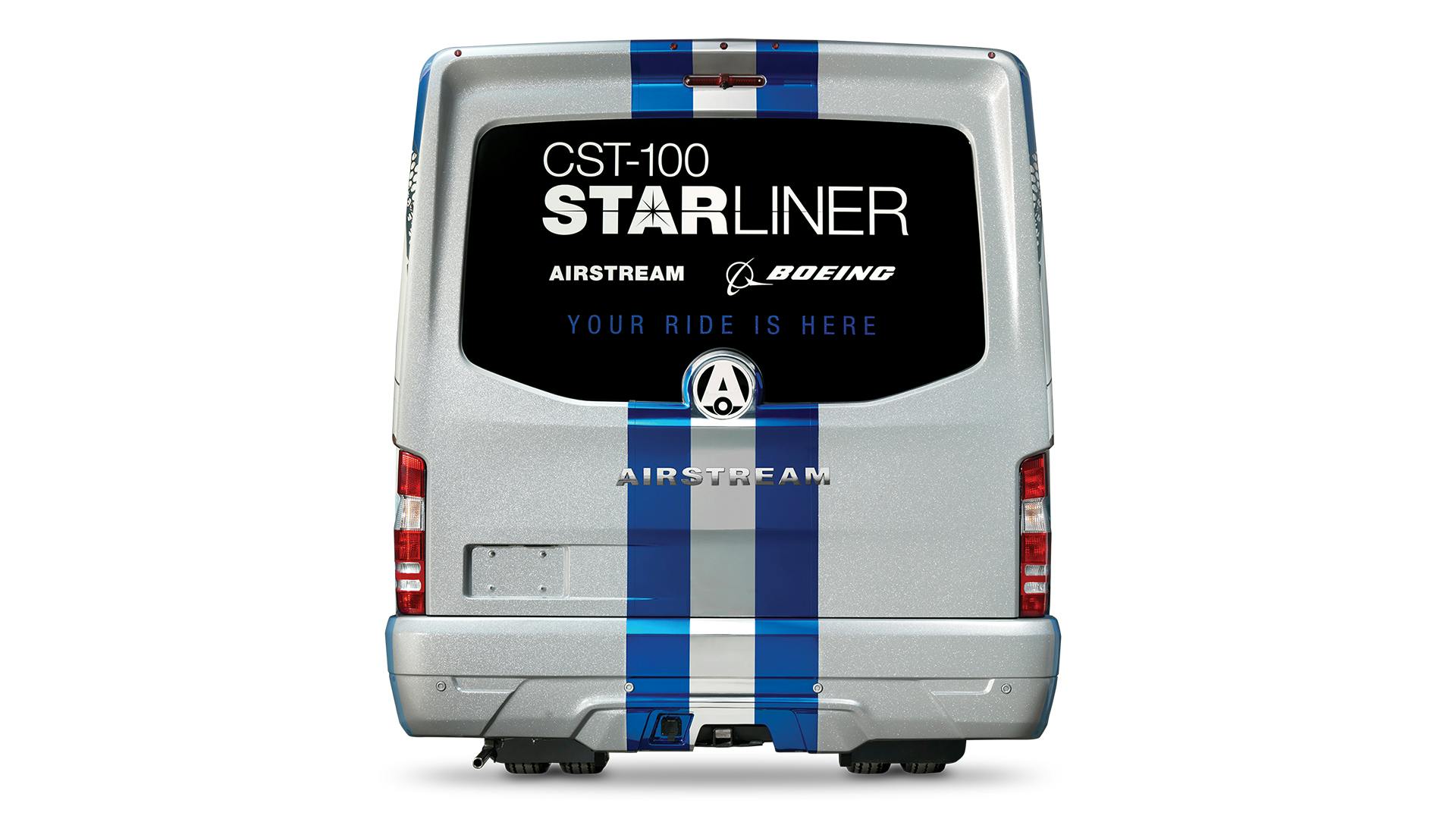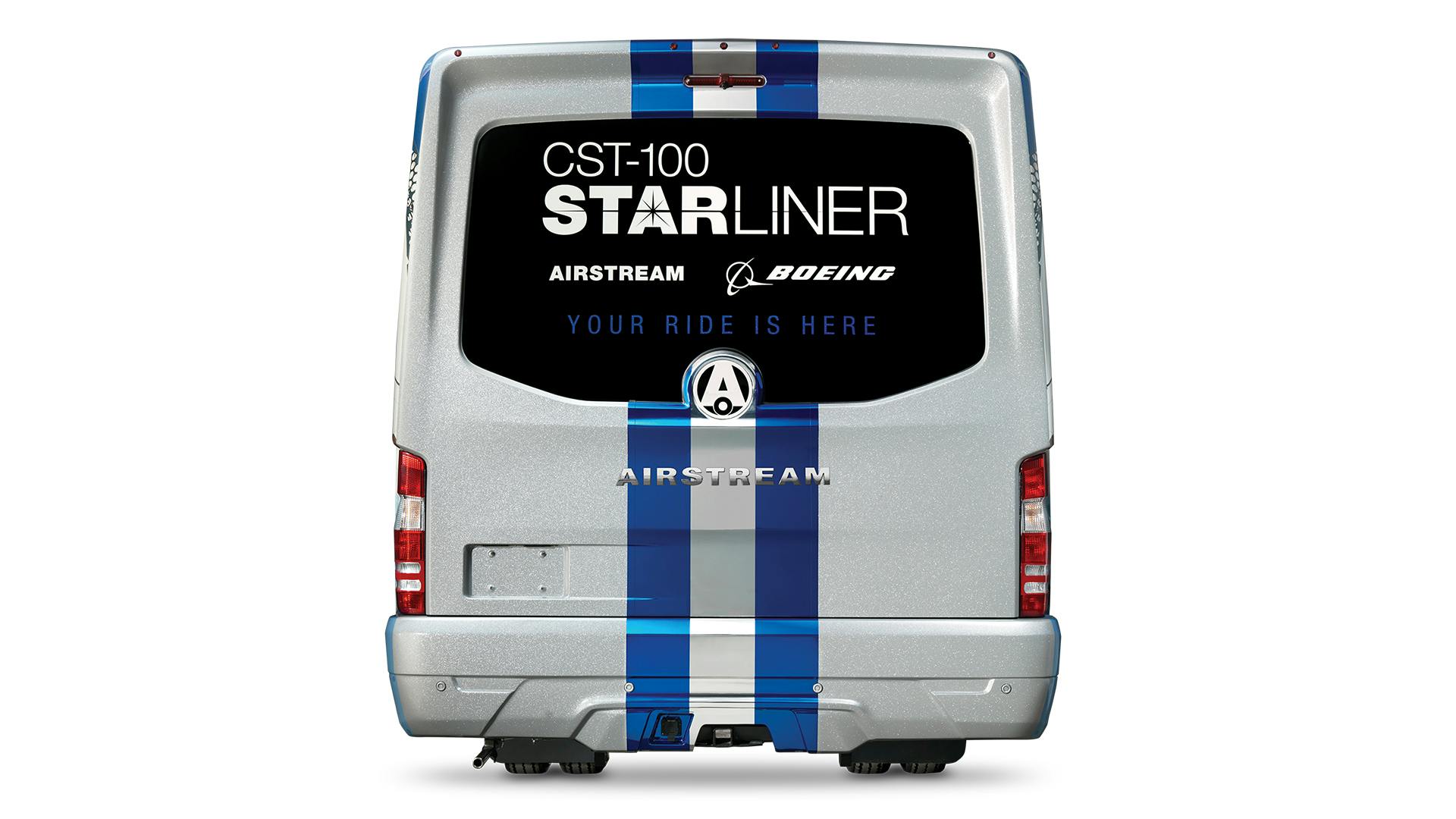 Built With Quality and Purpose
A modified Airstream Atlas Touring Coach, ASTROVAN II is a one-of-a-kind vehicle custom-built by the skilled craftspeople at Airstream's Jackson Center, Ohio touring coach manufacturing facility. Working hand in hand with Boeing's Starliner team, Airstream drew inspiration from the company's long history in the space program while keeping an eye toward America's bright future in orbit – and beyond.?
Astrovan II
The New Transport Vehicle for Boeing's CST-100 Starliner Crew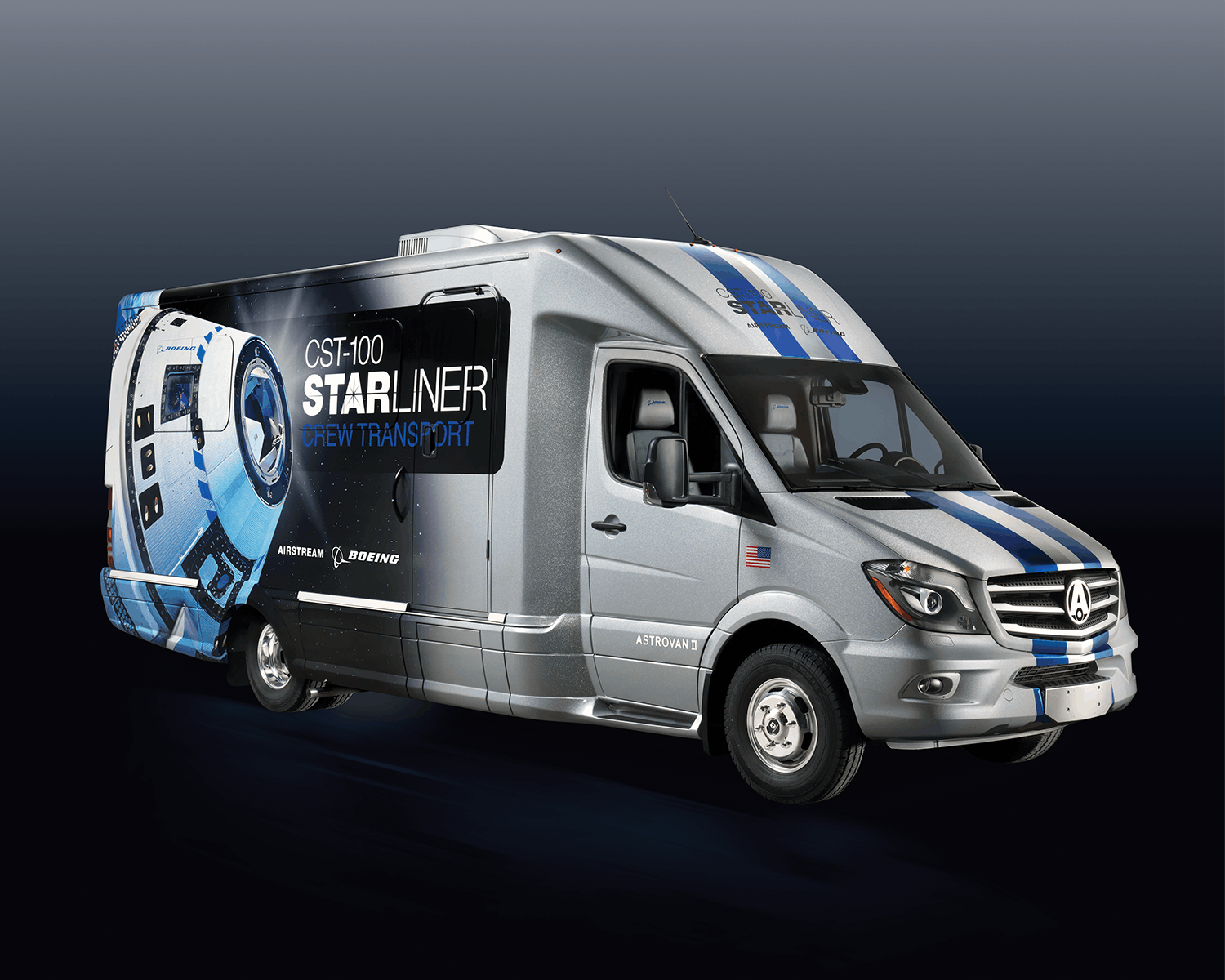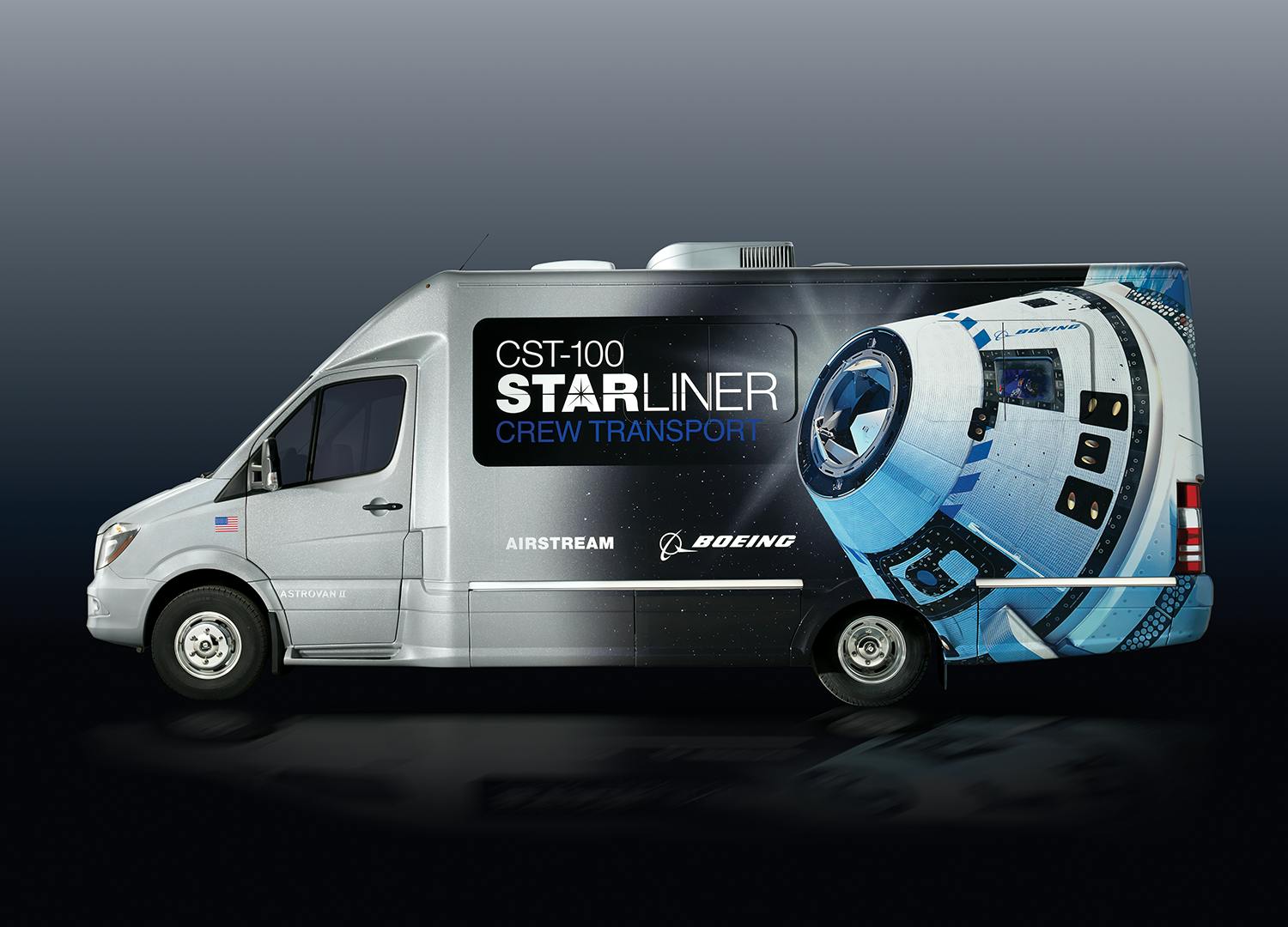 Vehicles built
One-of-a-kind
Official name
CST-100 Starliner Crew Transport Vehicle
Nickname
Airstream Astrovan II
Tagline
"Your Ride is Here"
Vehicle Foundation
Modified Airstream Atlas Touring Coach
In Collaboration With
The Boeing Company
Driving time to the ISS
~15,925 hours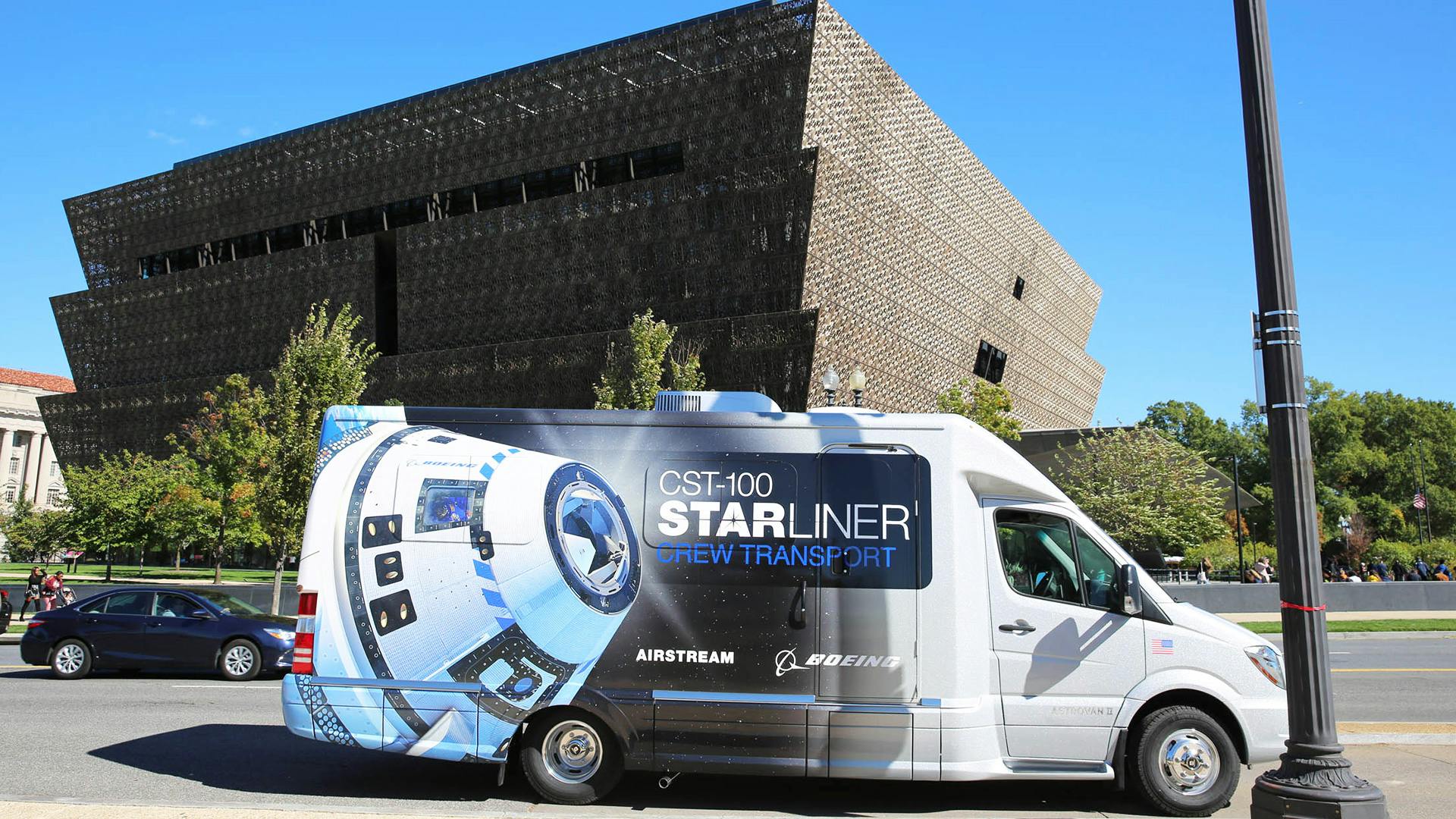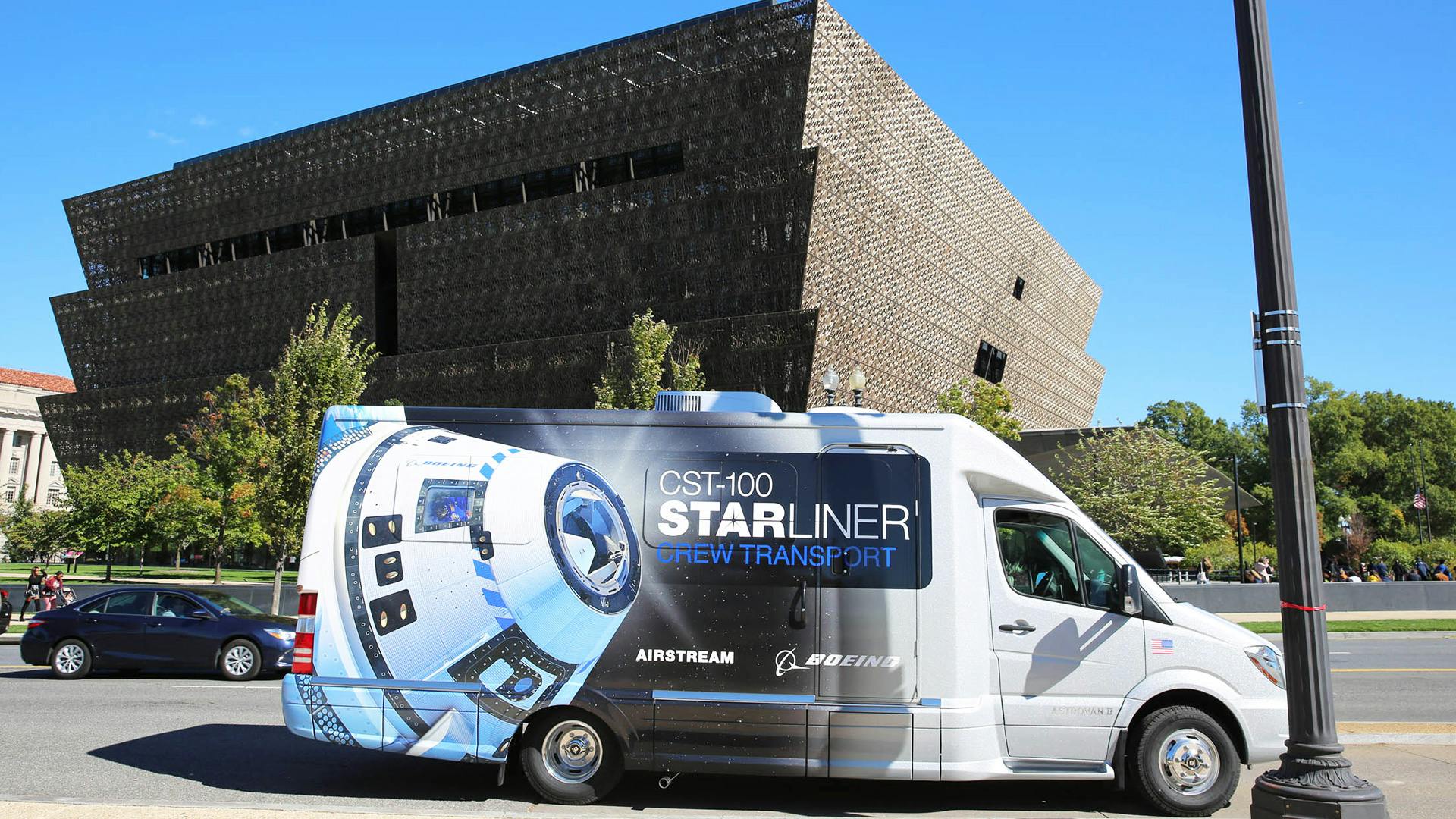 An Epic Return to Space
Since NASA's Space Shuttle was decommissioned in 2011, no American astronauts have launched into orbit from U.S. soil. With the Commercial Crew program, that's about to change. A handful of companies – including Boeing – now compete to be the first to launch astronaut crews to the International Space Station. Currently scheduled to launch in 2020, Boeing's Starliner crew is hopeful they will be the first. And Airstream will be there for the first leg of their journey back to space.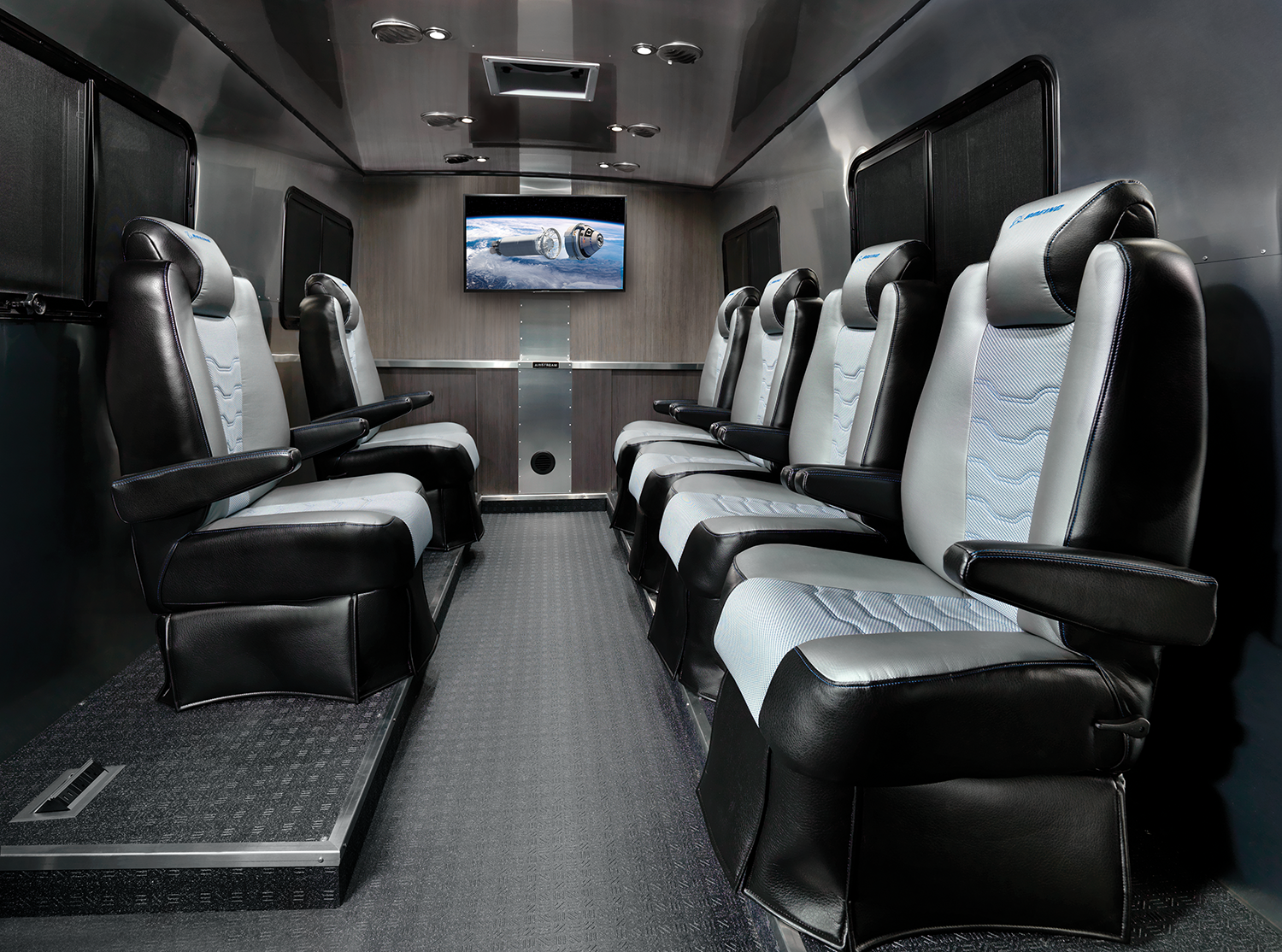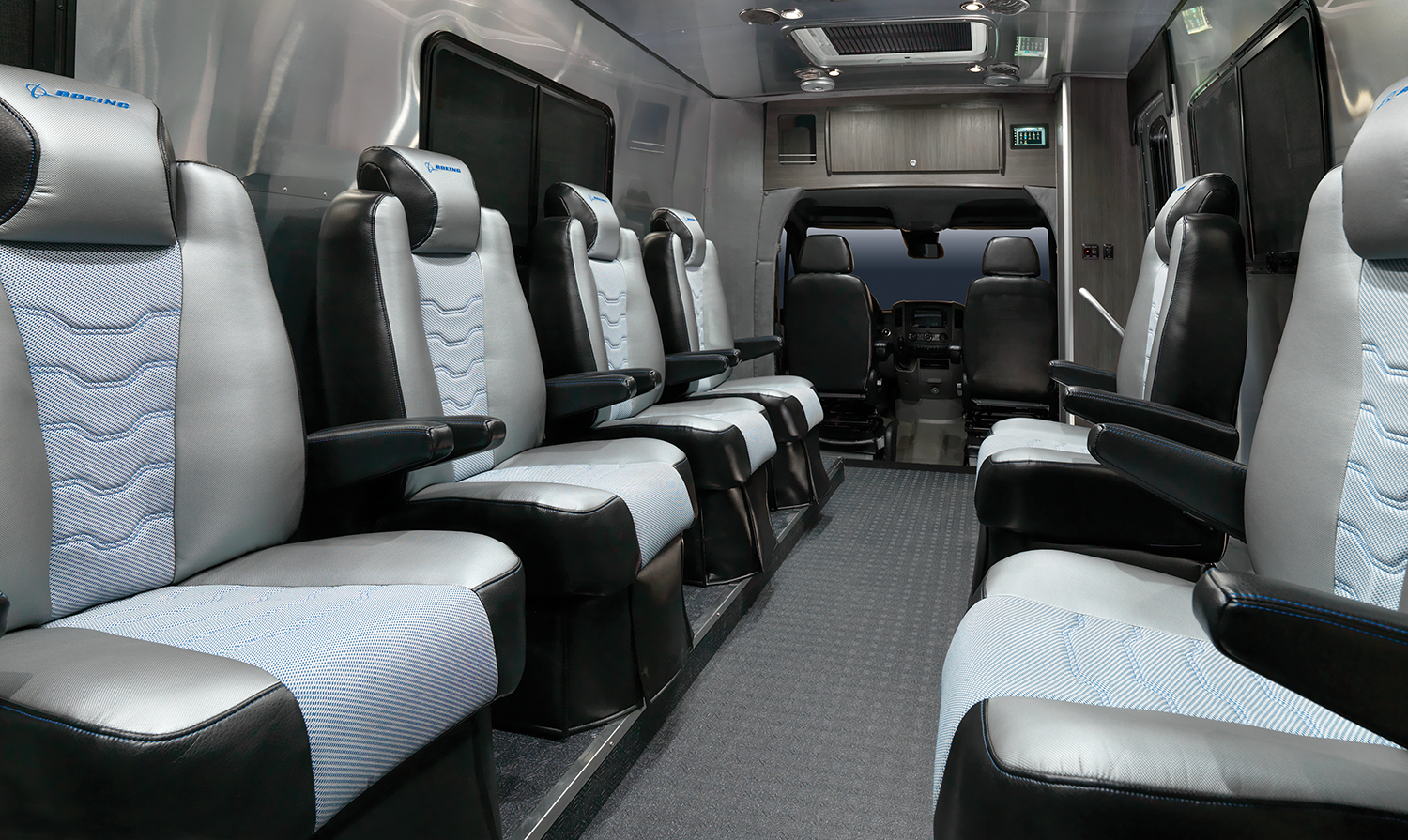 A Tradition of Quality, Craftsmanship, and Adventure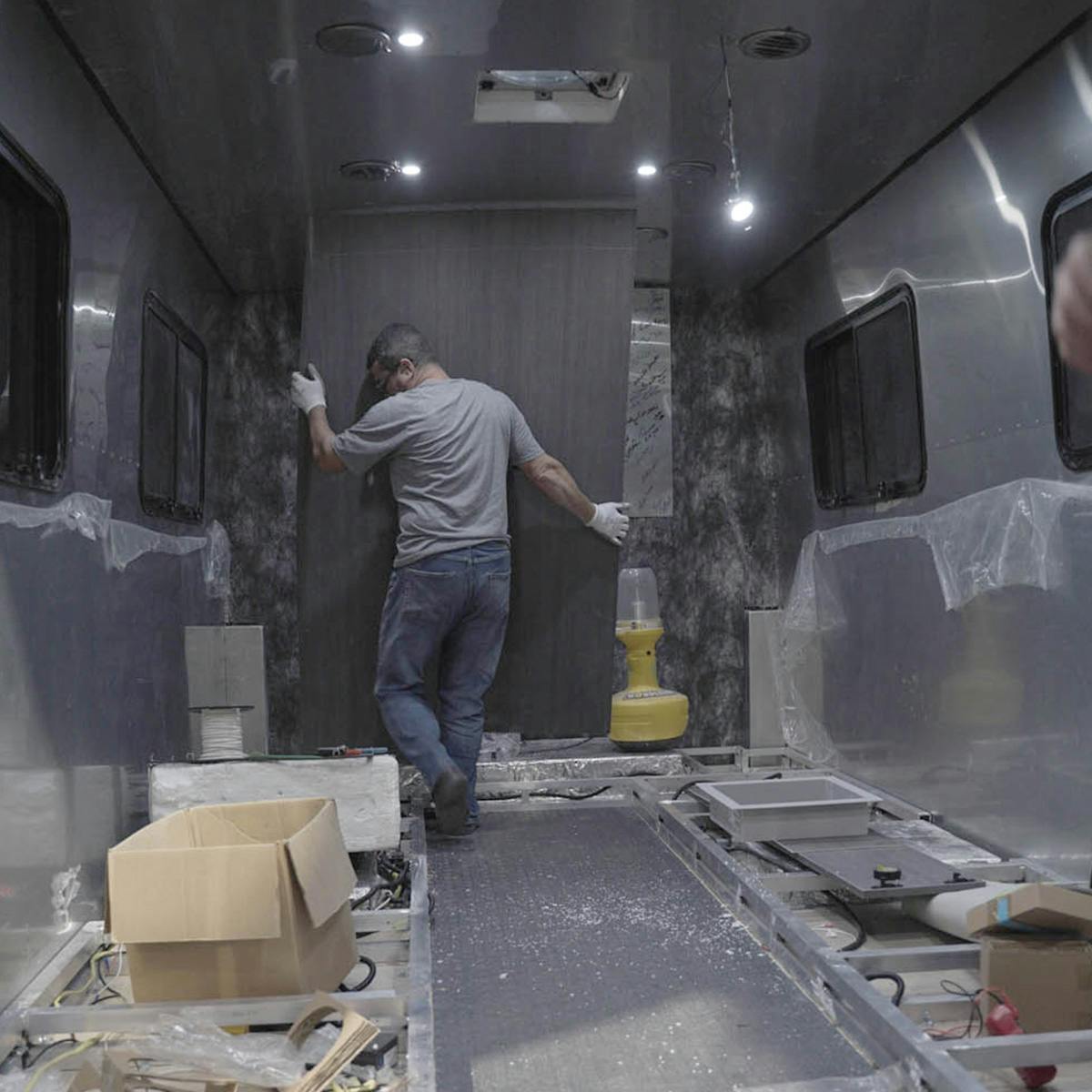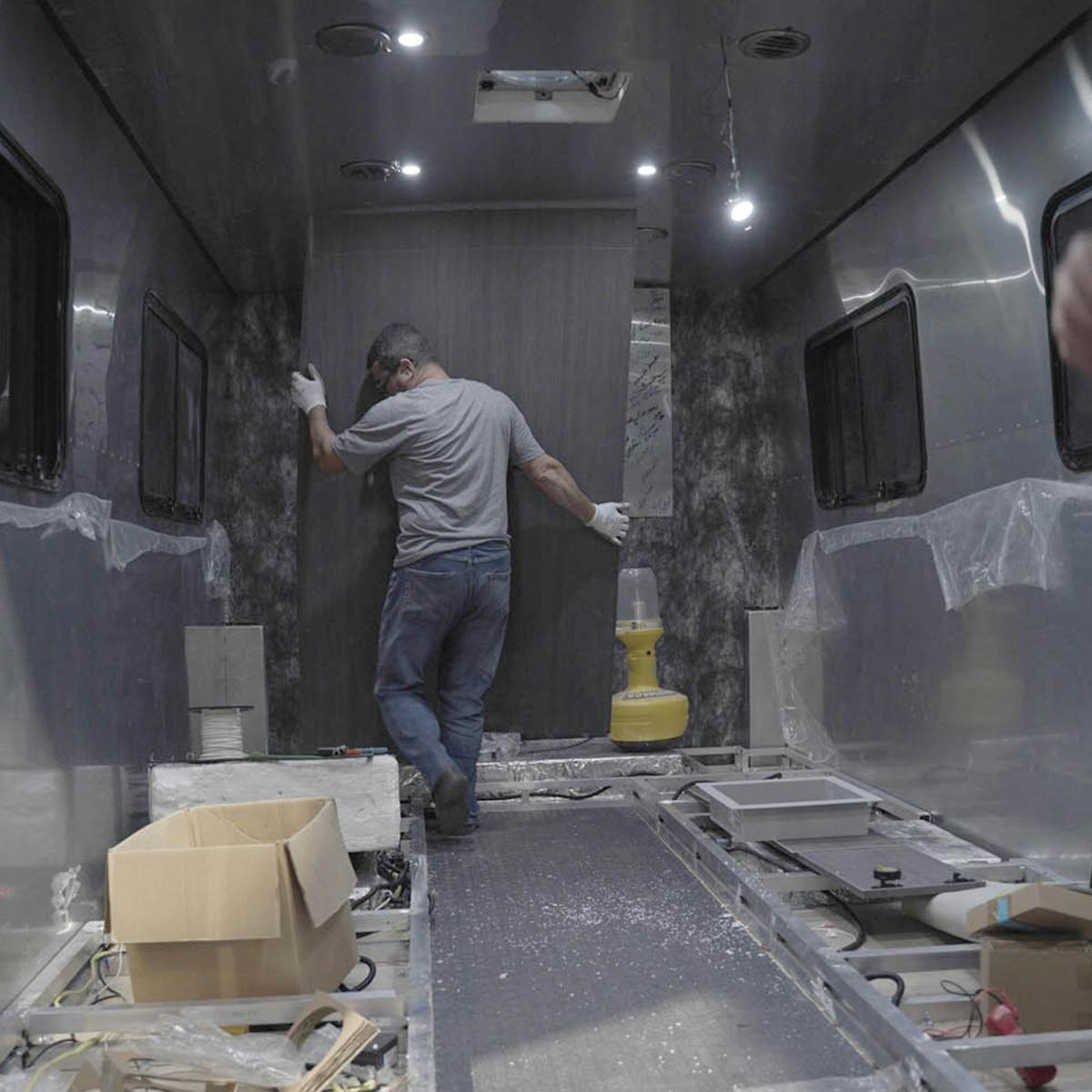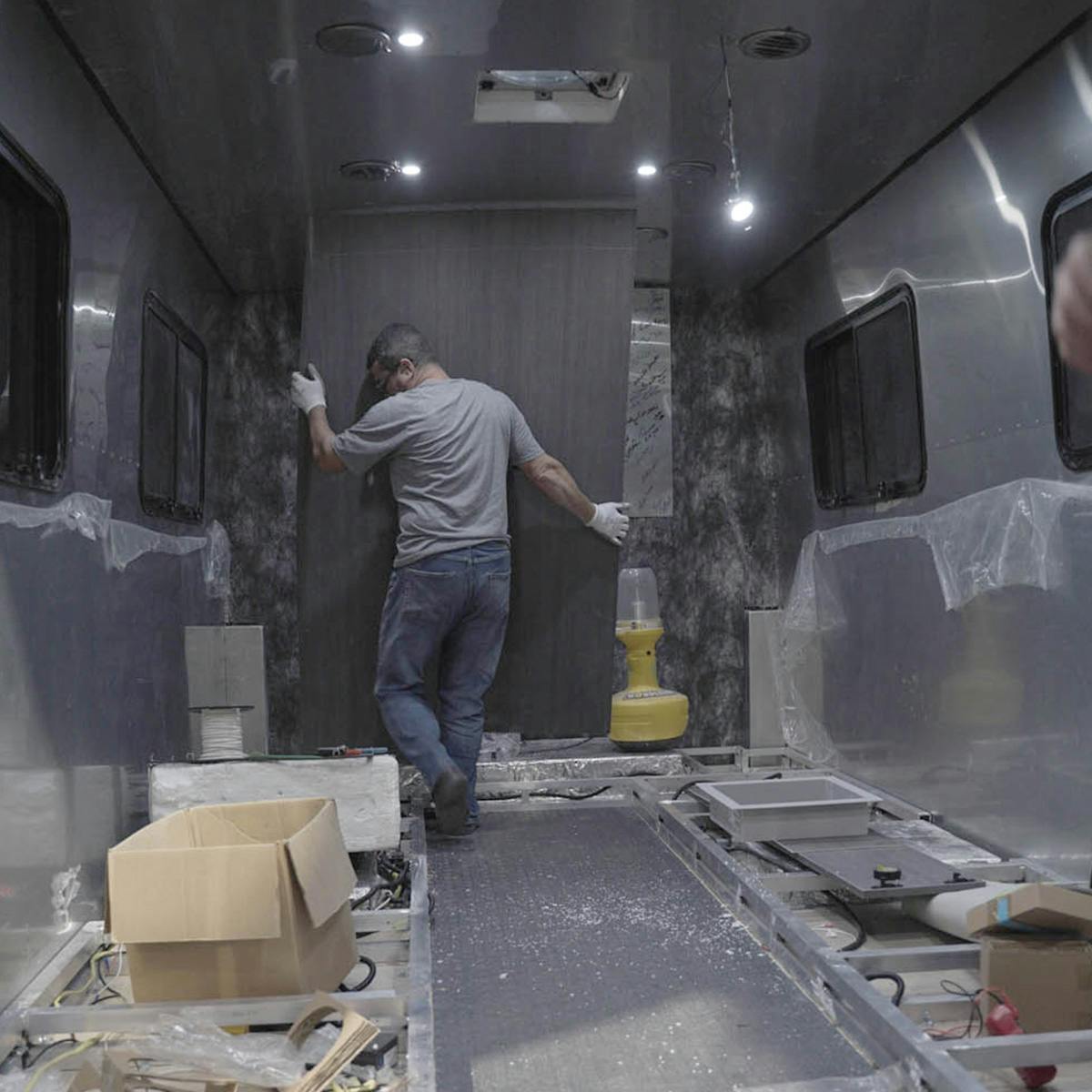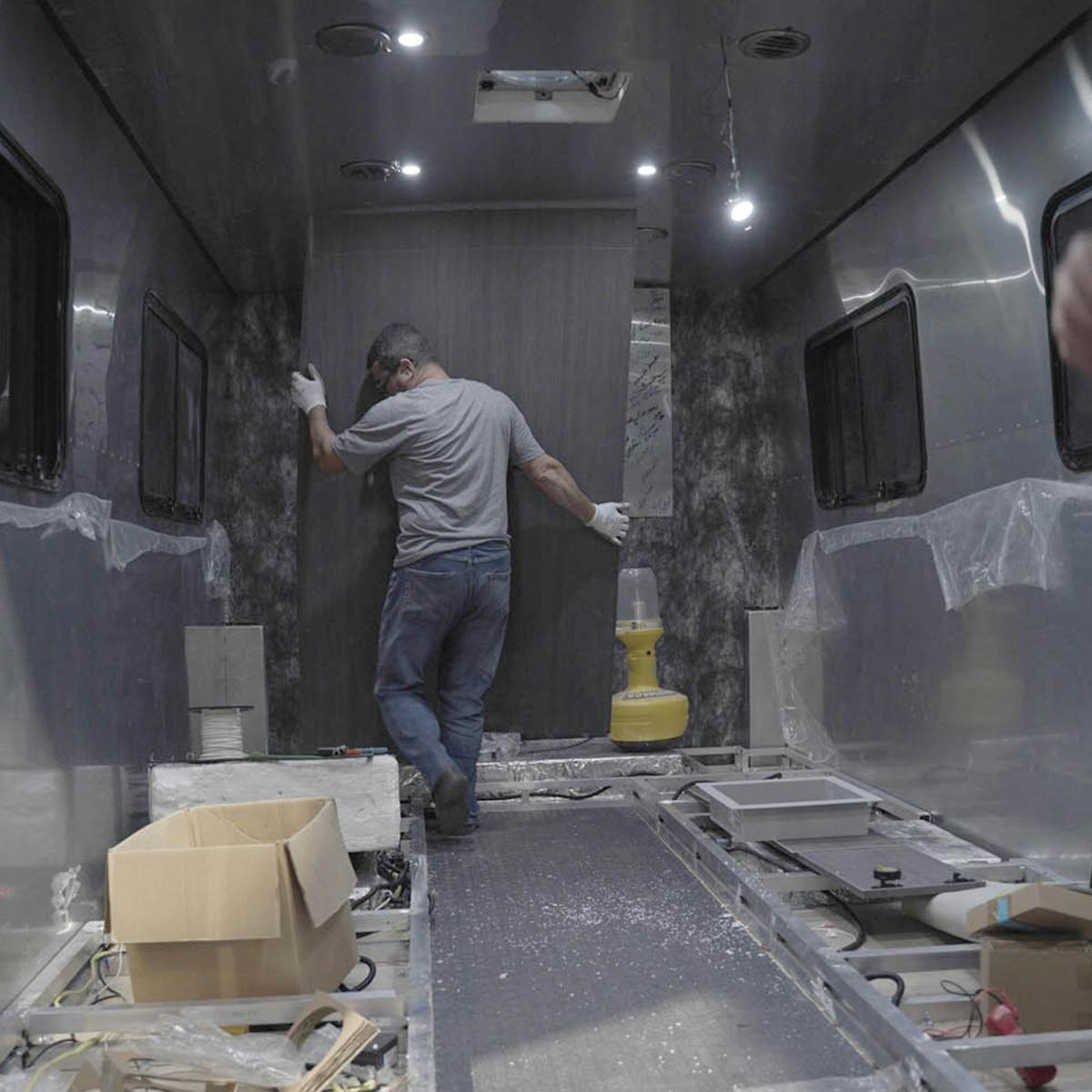 Quality
In early 2018, Boeing approached Airstream about building a new crew transport vehicle. It was a logical choice, considering Airstream's history of working with America's space program – from the four Mobile Quarantine Facilities built by Airstream for Apollo astronauts returning from the moon, to the original ASTROVAN that carried Space Shuttle crews to the launchpad. Production began at Airstream's manufacturing facility in Jackson Center, Ohio in summer 2019 in a modified Airstream Atlas Touring Coach.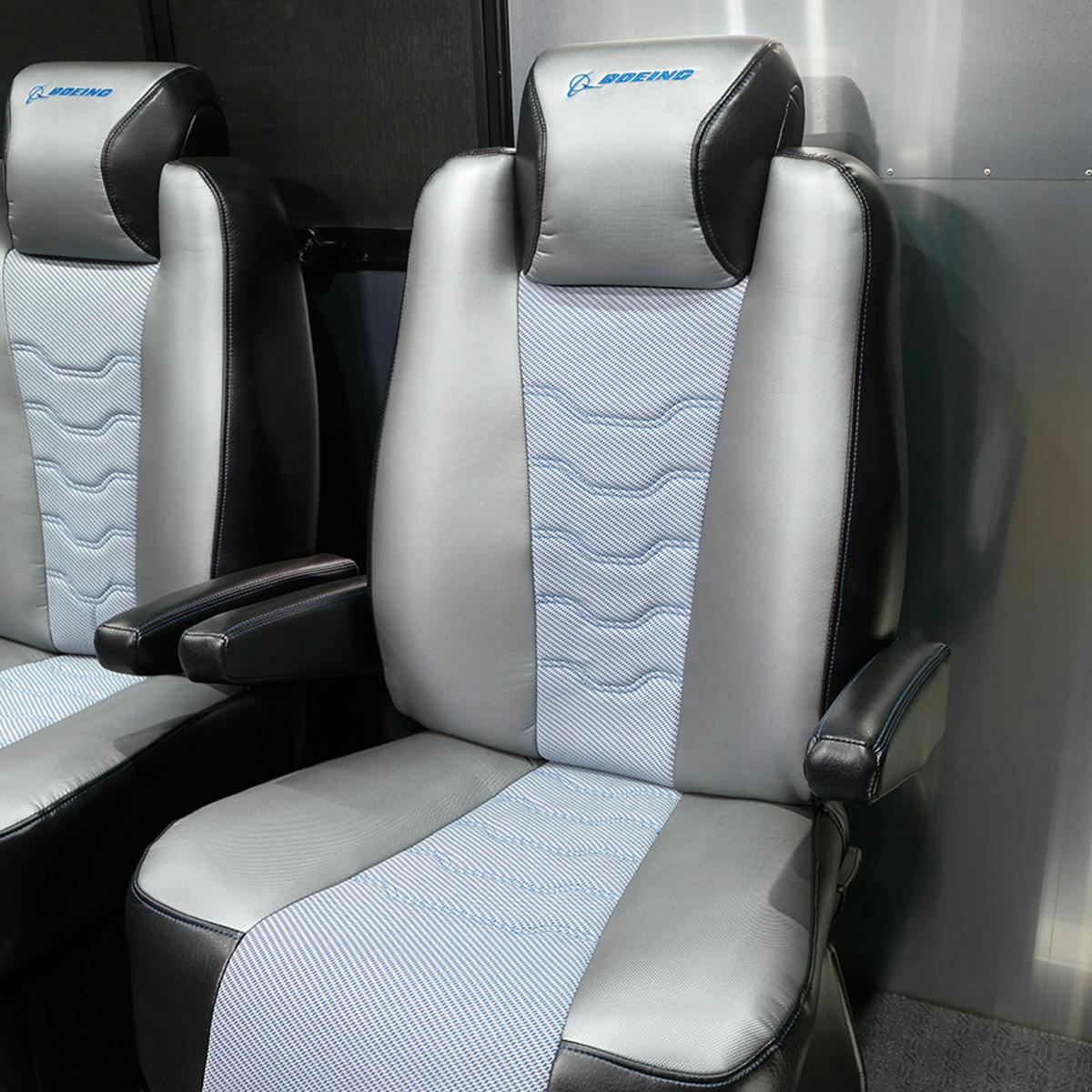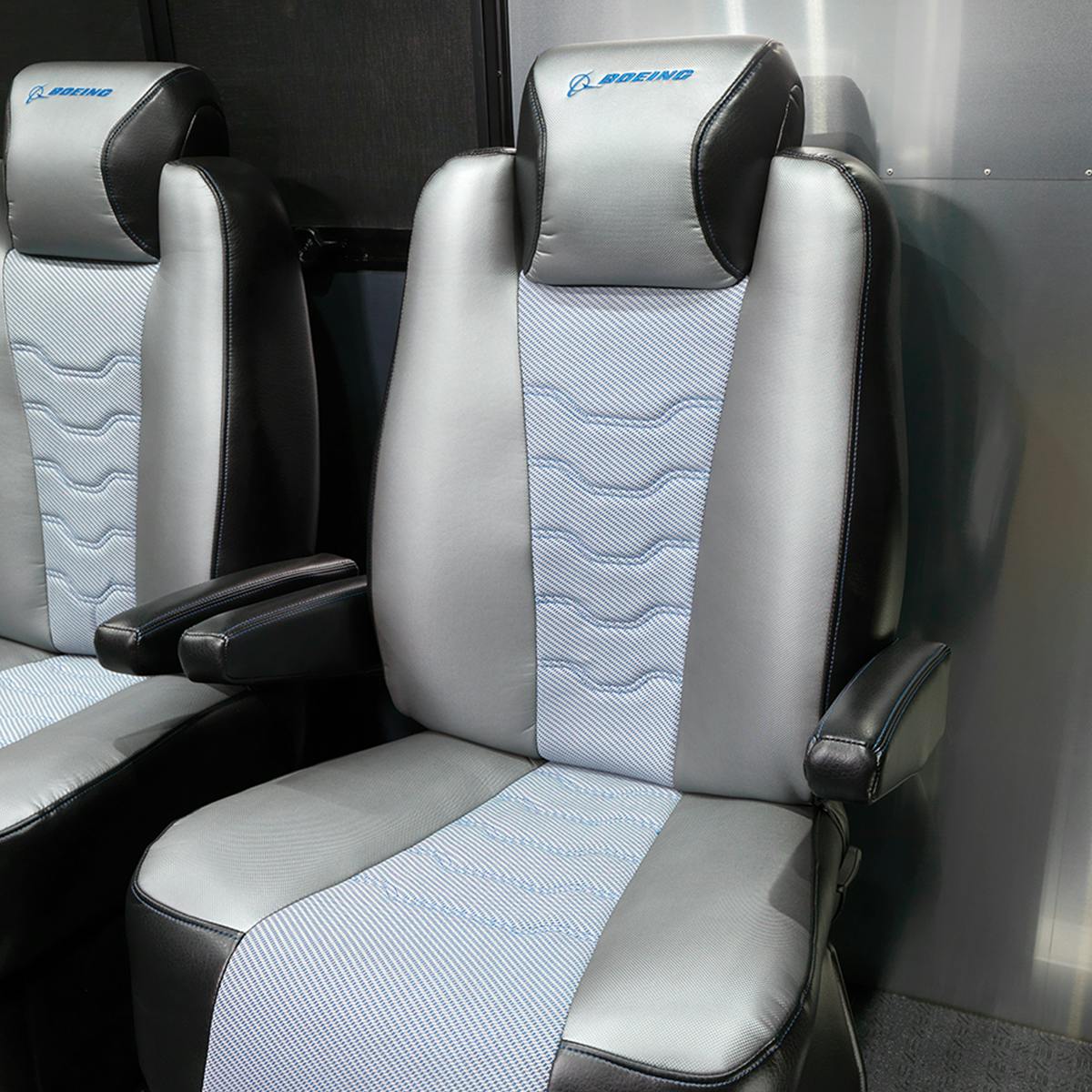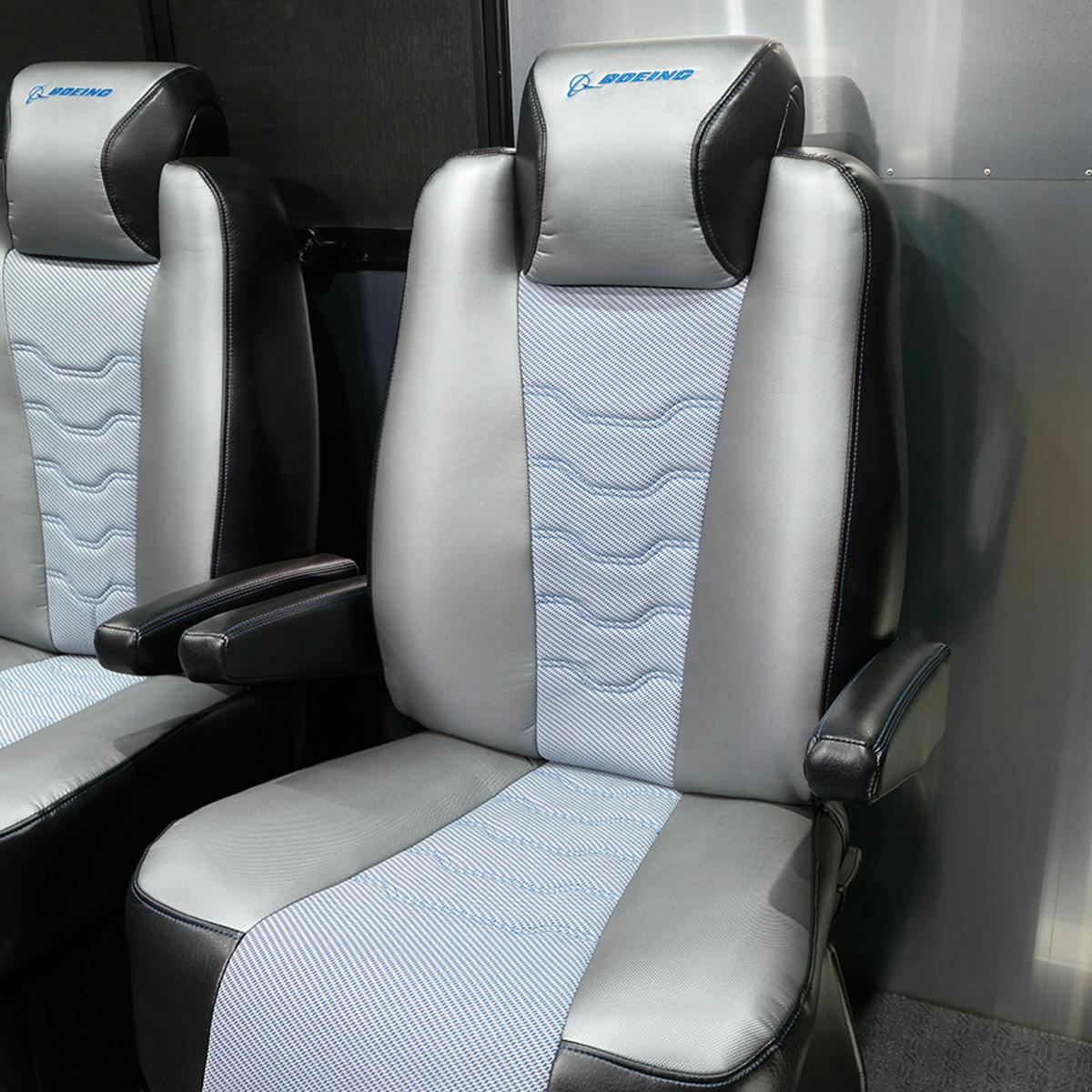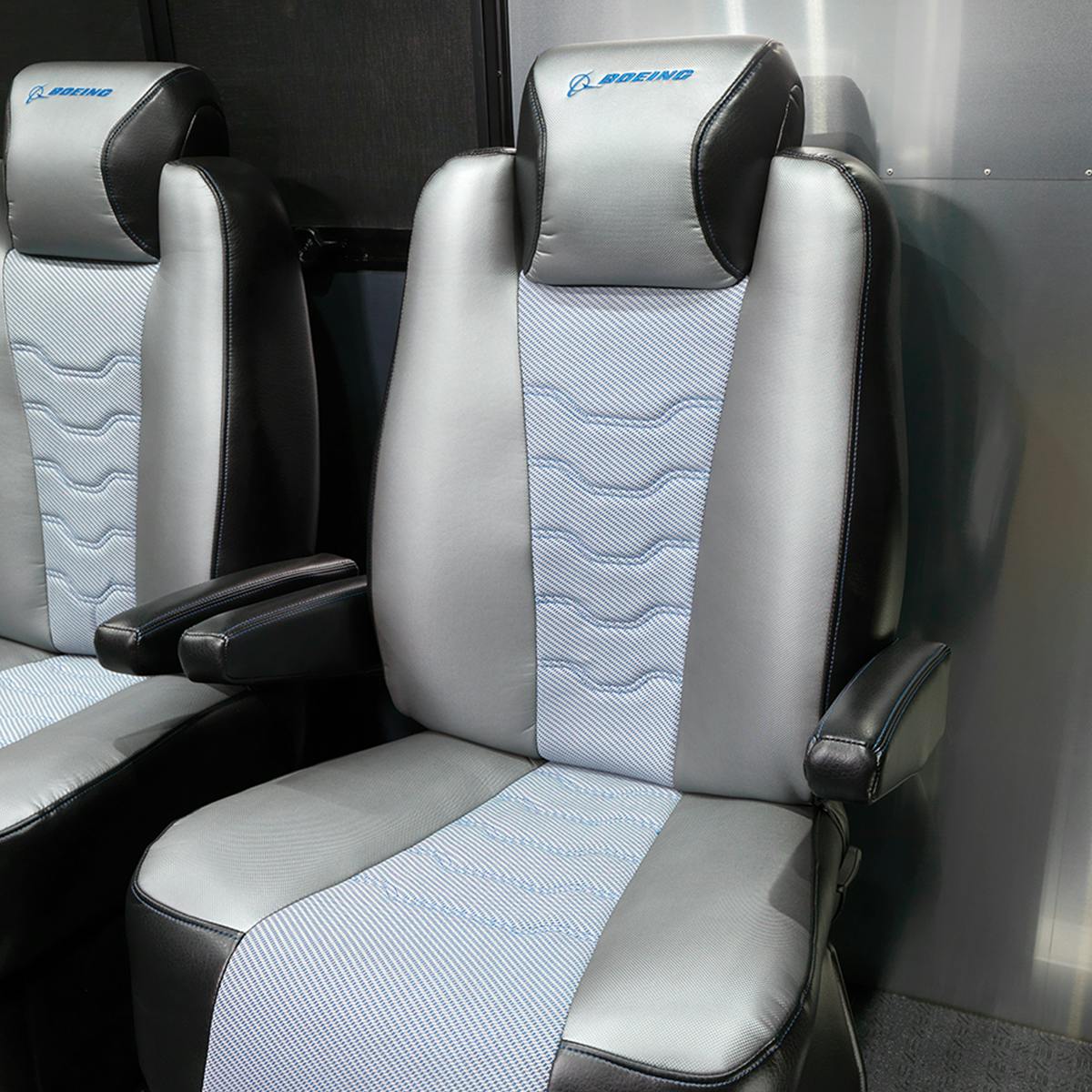 Craftsmanship
Inside ASTROVAN II, Boeing's crew will find seating for eight. The back cabin includes six seats arranged across a central aisle – two on the curbside and four on the roadside. Each seat has access to 110V outlets and USB charging stations. The seats were custom built in Wapakoneta, Ohio and incorporate stitching in Boeing blue. The graphics on the side of the vehicle depict the Starliner spacecraft in orbit around the planet.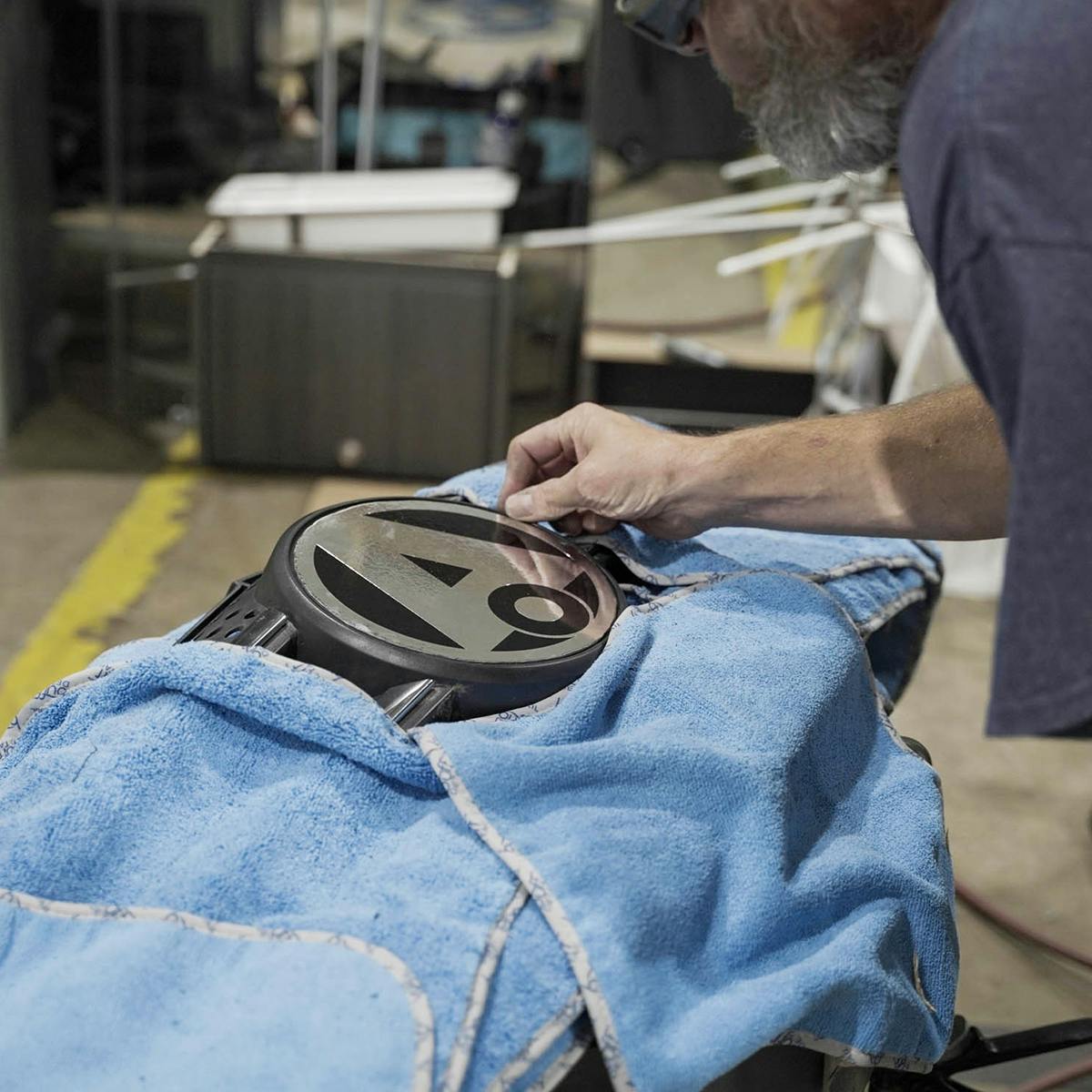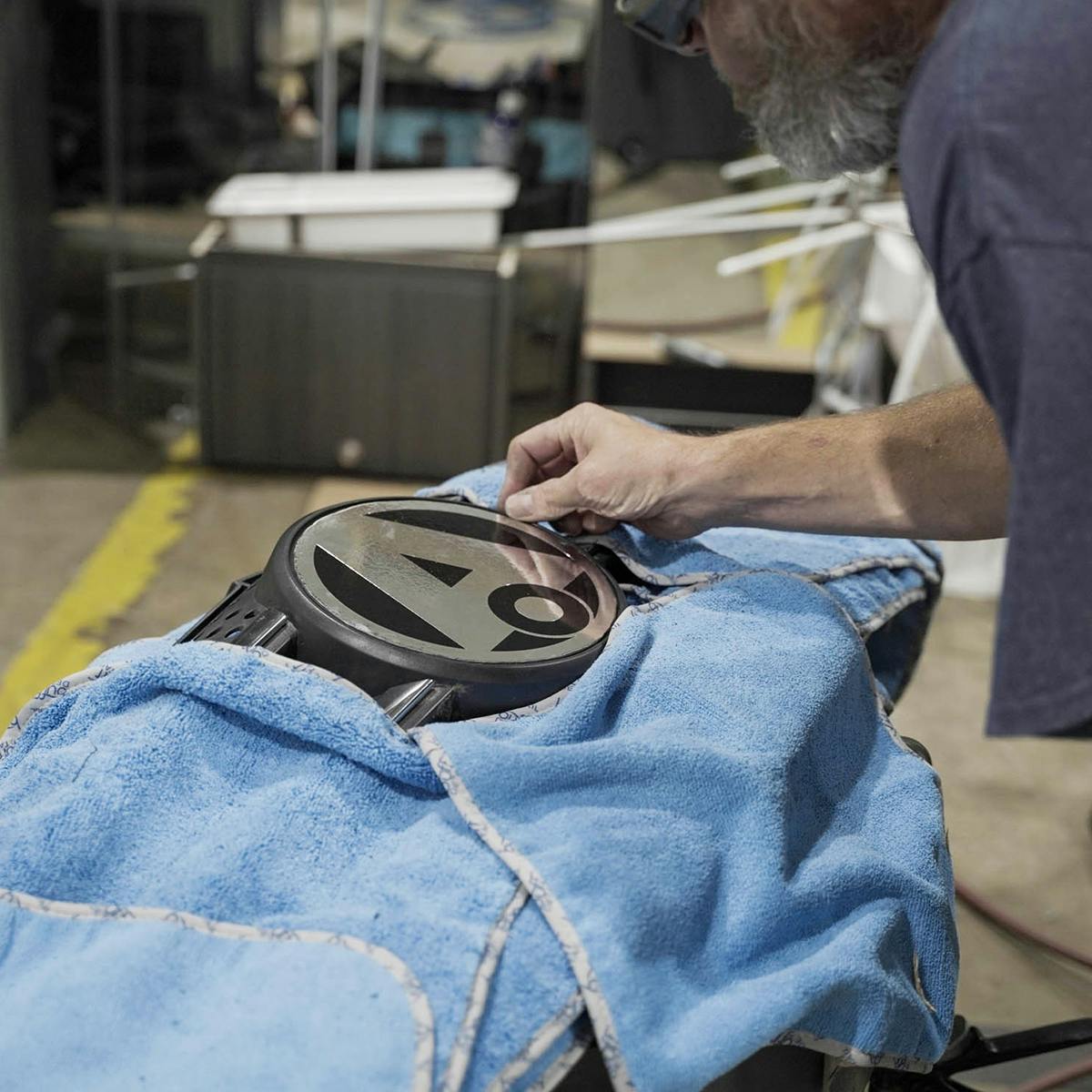 Adventure
And Airstream is working with their partners at AT&T to create a system for live streaming from inside the vehicle during its historic 9-mile trip out to the launchpad. Production was completed in October 2019.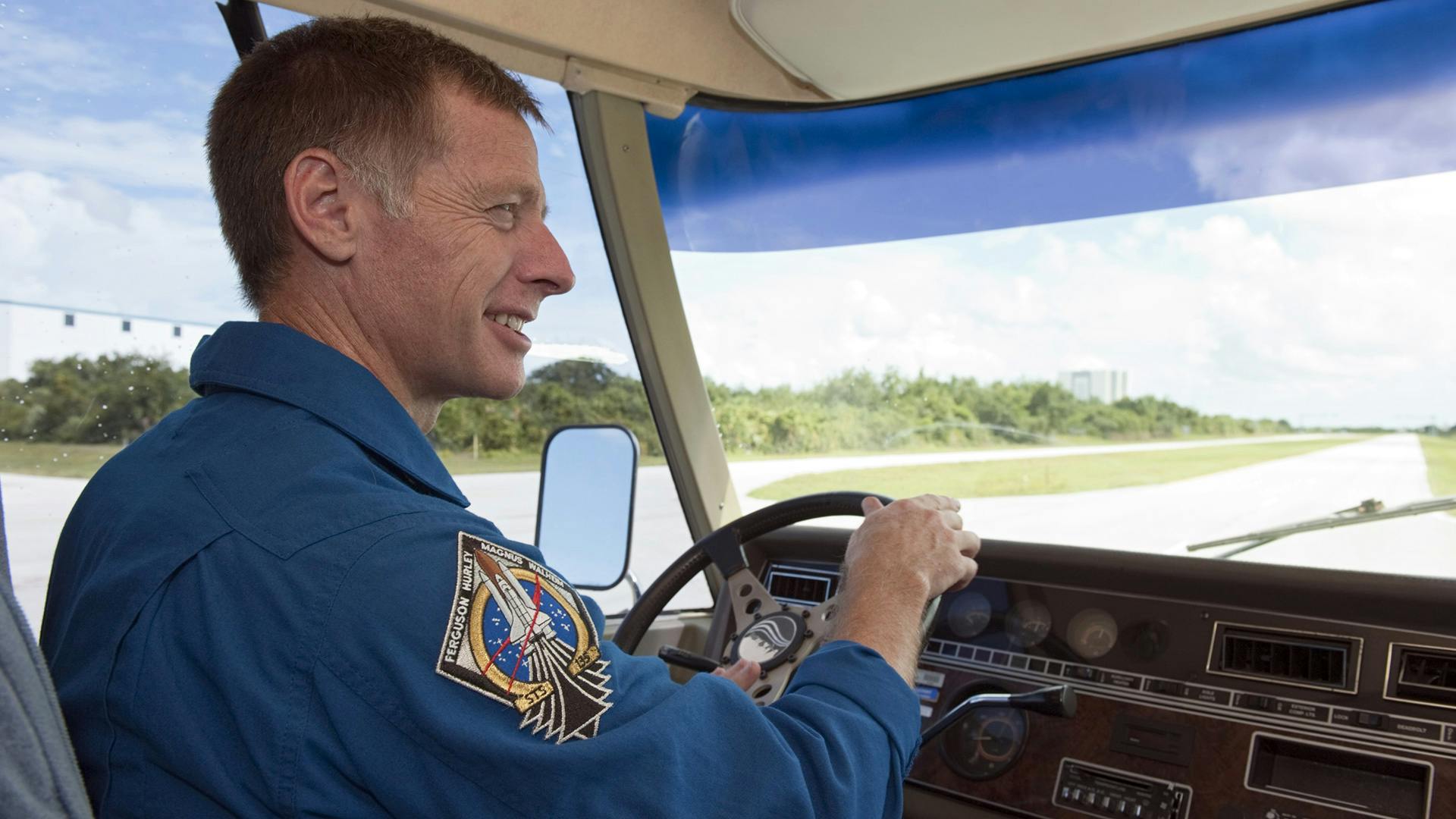 Returning to Orbit
One member of Boeing's crew is a longtime Airstream fan. Astronaut Chris Ferguson participated in three Space Shuttle missions – including commanding the final mission in 2011 – and will return to orbit on the Starliner in 2020. Chris is quick to profess his affection for ASTROVAN I, and he was instrumental in directing the Boeing Company back to Airstream for ASTROVAN II.
Airstream and Space: A Storied History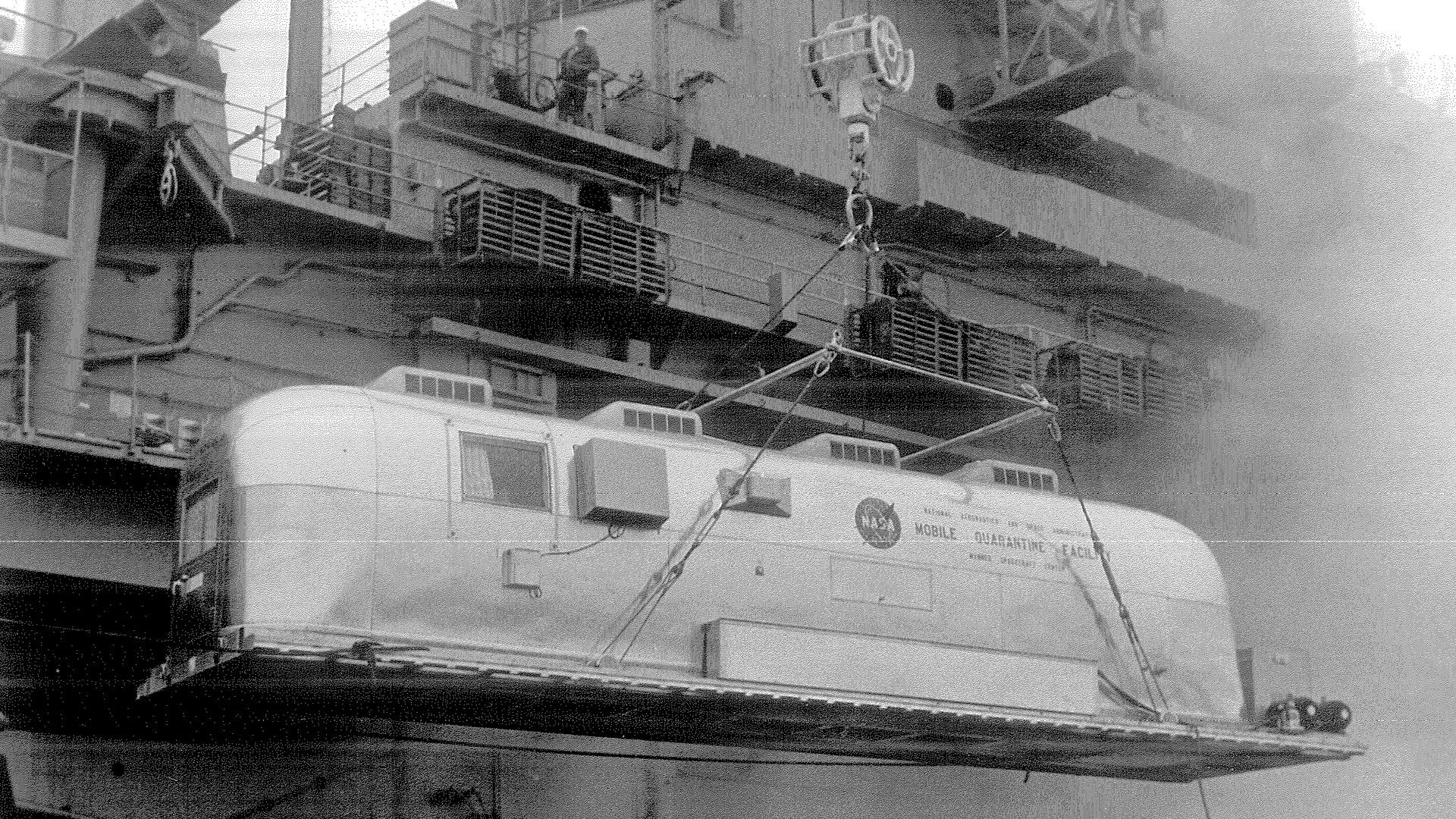 Since the Apollo program in the 1960s, Airstream has played an integral part in America's exploration of space. When Apollo 11 astronauts Neil Armstrong, Buzz Aldrin, and Mike Collins returned from the moon they spent 3 ? days quarantined in a Mobile Quarantine Facility (MQF) built by Airstream. A total of four MQFs were built by Airstream, three of which were used (Apollo 11, Apollo 12, and Apollo 14). A fourth was intended for use by the Apollo 13 crew. Today, three of the four MQFs are on display in museums – one on the USS Hornet, one at the U.S. Space and Rocket Center in Huntsville, Alabama, and one in the Smithsonian Air and Space Museum in Washington, D.C.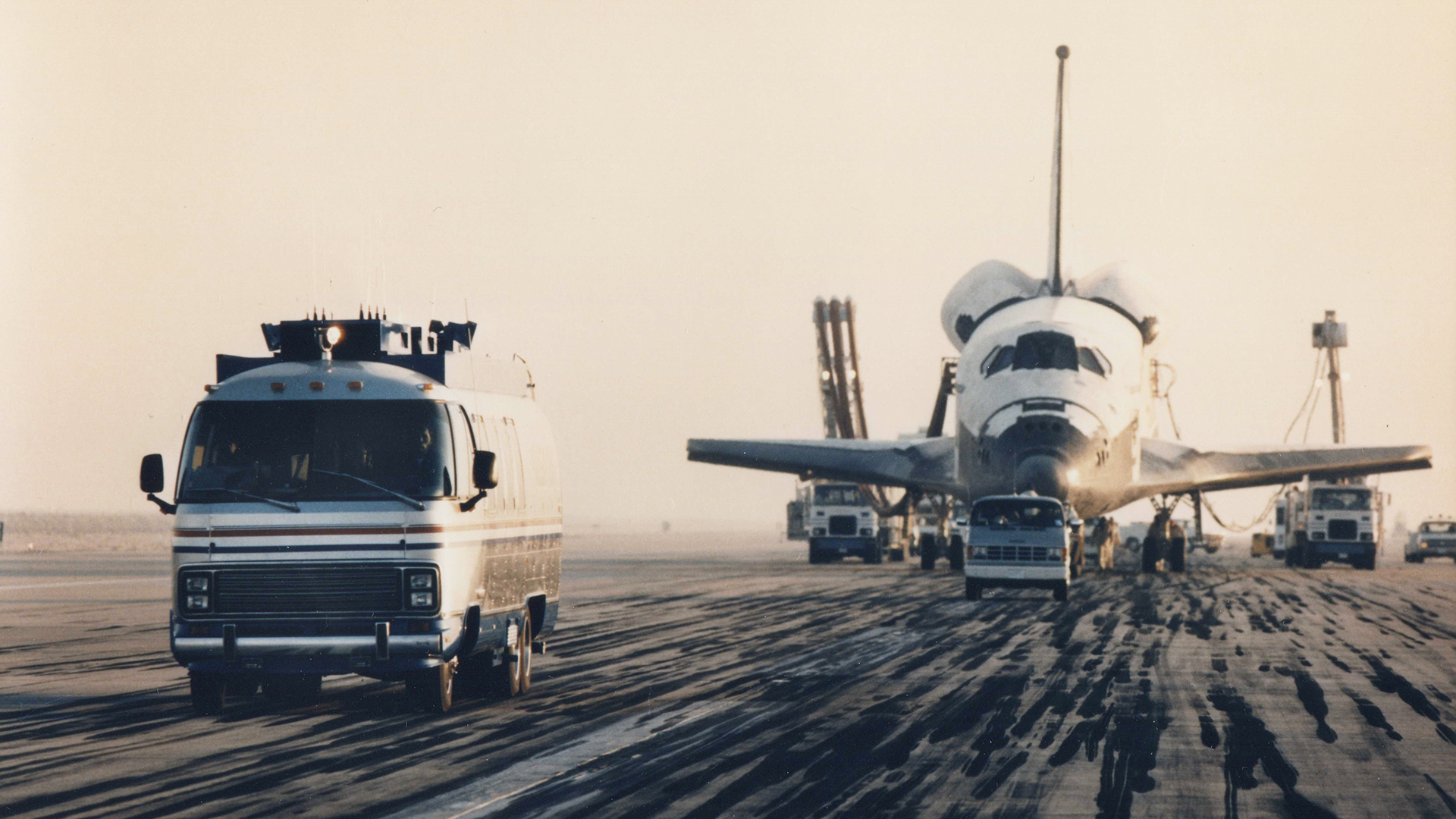 Airstream's involvement with the space program continued in the 1980s, when NASA commissioned Airstream to build a crew transport vehicle. From shuttle mission STS-9 in November 1983 to the final Space Shuttle mission in 2011, a modified 1983 Airstream Excella motorhome transported astronaut crews from the Operations and Checkout Building out to the launchpad for shuttle launches. That vehicle was nicknamed the ASTROVAN and is currently on display at NASA's Kennedy Space Center Visitor's Complex next to the Space Shuttle Atlantis.